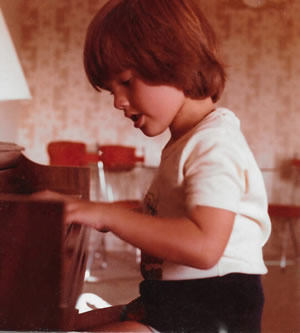 Sara Toudouze is a San Antonio native. Her parents were John and Nancy Toudouze. He sold farms and ranches and she wrote the petroleum news for the San Antonio Express. Sara studied piano locally, from the age of 6, with Kathleen Gerhardt. At the age of 9 she began studying piano with a new piano teacher, Shirley Edelman Teperow. Sara's mother promised Sara that if she didn't like this new piano teacher she wouldn't have to continue taking piano lessons. Sara enjoyed her new piano teacher so much that she continued studying piano with this new teacher until graduating from Churchill high School in 1975! In the spring of 1973, Mrs. Teperow gave all of her beginning piano students to Sara, so this was the beginning of Sara's piano-teaching career! That same year, Sara's piano teacher said that Sara's piano skills showed tremendous increase in one particular week. After a year of trying out all the grand pianos for sale in the San Antonio area, Sara and her Dad chose a recently rebuilt, 1926 Mason-Hamlin grand piano. After a week of practicing on this newly purchased grand piano, Sara wowed her piano teacher at her next piano lesson. Sara had been practicing on a Baldwin acrosonic spinet piano before her parents generously purchased this Mason-Hamlin grand for her. Mrs. Teperow also encouraged Sara to major in music at UT-Austin. In 1981, Sara graduated from UT with a Music Education degree with all-level certification. What a great influence Sara's new piano teacher had on her young life! Mrs.Teperow continued to be a wonderful influence and great friend.
In 1982, Sara moved home to San Antonio and opened her current music-teaching studio, which she has operated continuously since 1982. She also joined the San Antonio Music Teachers' Association, the Texas Music Teachers' Association, and the Music Teachers' National Association that year. The curriculum under Sara Toudouze's tutelage includes playing in all musical styles, building an excellent sight-reading muscle, as well as an ease-filled piano technique, and working with improvisation while reading chord symbols. Performance opportunities for Sara Toudouze's students include: two Spring Recitals, the San Antonio Music Teachers' Association's Achievement Auditions in April, Guild Auditions in May, a Summer-Encore Piano Party in September, a Costume Recital in October, and recording two personal cd's for each student per year. In November 1982, Sara met Brian St. John, an art student at UTSA. They were both working on Master's degrees at the time. In 1986, they married. In 1989, Sara received her Master's degree in piano from UTSA. She continued to study singing privately with her neighbor, Dr. Evelyn Troxler, who taught at UTSA, and later at St. Mary's University. That same year, Brian St. John began teaching in the art department of St. Mary's University. With Dr. Troxler's suggestion and support, Sara began teaching voice lessons in 2000.
In 2001, Sara purchased her second grand piano, a 1927 Steinway. She had joined the San Antonio Tuesday Musical Club in 1990, and performed in their annual Piano Ensemble Recital in 1992. Every February, since 2002, she has participated in these Tuesday Musical Club annual piano ensemble recitals. Two of her adult piano students have participated in these piano ensemble recitals with her in recent years. Sara's adult students enjoy a great camaraderie when they get together to perform for each other and enjoy a pot-luck dinner afterwards at Sara and Brian's home.
In 2004, a very gifted ten-year-old boy started taking lessons with Sara Toudouze. Over the years, this student, David Yznaga, has grown into an excellent pianist. In 2010, he and Sara performed a recital on the wonderfully matched set of Steinway grand pianos at the Tuesday Musical Club. Excerpts from this recital of music composed for two pianos, four hands, can be heard on YouTube, including works by Gershwin, Mozart, and Beethoven. On February 23, 2014 they collaborated on another recital featuring the exciting piano duet, Brahms' Hungarian Folk Dances, books three and four. David also accompanied Sara, singing vocal works by Faure, Debussy and Barber. This recital can also be heard on YouTube. Their most recent recital, performed at the Tuesday Musical Club on September 12, 2015, featured solo piano works of Rachmaninoff and Liszt and piano-vocal works using six poems by the French poet, Paul Verlaine, set to music by both Faure and Debussy, and songs, in English, using Shakespearean texts by Mario Castelnuovo-Tedesco. Excerpts from this recital can be heard on YouTube as well.
In the spring of 2015, Sara's artist husband founded Gallery 2020, an art gallery featuring local and regional artists from the San Antonio area. Gallery 2020 opened it's door on August 1, 2020 and is located in West King William on the corner of South Flores and Guenther streets, one block from the San Antonio Riverwalk. Please visit Gallery 2020 soon or go to www.gallery2020.net.
On February 7 and 9, 2016, Sara Toudouze and her two adult piano students, Joan Fritze and Ellen Serwer and their friend, Dr. Terresa Stallworth will perform a piano quartet at the Tuesday Musical Club's annual Piano Ensemble recitals. This spring, Sara Toudouze and her students will be busy preparing for the San Antonio Music Teachers' Association's theory tests held on Jan. 30. They will be practicing for the spring recital held in the beginning of March, and planning for their performances in the Achievement Auditions and Guild Auditions later this semester. In summer 2016, Brian and Sara will celebrate their 30th wedding anniversary! Blessed with generous, supportive parents and family, inspiring and gifted teachers, and talented, hard-working students, Sara Toudouze's life has been exciting and filled with music and art and many wonderful people who have been teachers, students and friends.